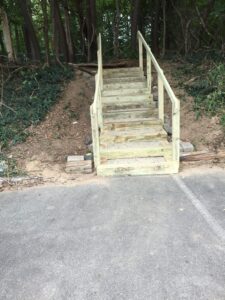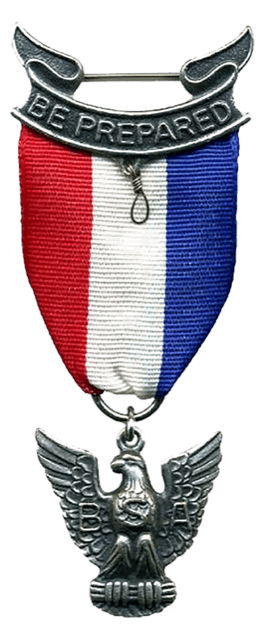 Mehdy Kamel of Boy Scout Troop 89 has worked diligently to refurbish the Union Cemetery entrance back to its glory. The photo above reveals a previously hidden stone wall that flanks the dirt road entrance. Mehdy's Eagle Scout project included removing the overgrown bushes and weeds and rebuilding the stone wall. When complete, plans are also in the works to grade the dirt and rock path to the cemetery. The sign was temporarily removed but will be reinstalled after the pathway grading is complete.
WHS members Melanie Long and Virginia Bryan are coordinating perennial plantings to enhance the entrance with much needed color.
For his Eagle Scout project, Luke Ramson of Troop 210 recently completed building a sturdy staircase leading to the side entrance of the Union Cemetery. (See photo at left.)
Previously, the only side entrance was to precariously navigate a slippery and crumbling paved ramp. Now there is an easy and safe way to access the cemetery from the Assembly of God church parking lot.
The WHS appreciates all the efforts of the Boy Scouts and their Eagle Scout projects and congratulate them on achieving the highest rank attainable in the Boy Scouts of America program. Since 1911, only 4% of scouts have achieved this prestigious rank.
WHS Union Cemetery tour and presentation were a great success!
Read the article in the Bergen Record featuring the Wyckoff Historical Society's work in restoring Union Cemetery published October 8. 2019.
In October people of all ages attended the walking tour of Union Cemetery. In November, historian Peggy Norris presented an in depth history of Union Cemetery in Wyckoff (corner of Edgewood and Franklin Ave.) Please help us continue to repair fallen gravestones and upkeep this historical site by donating in our Go Fund Me page.
---