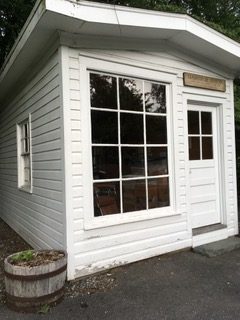 Open on September 22. Walking Tour tickets can be purchased from noon to 3 pm.
The barbershop building, located at Franklin Avenue by Zabriskie Pond, has been under restoration efforts since July 2018.
The interior has been painted and the exterior is expected to be painted in September along with a considerable amount of window restoration.
The building was donated to the WHS in 1978 by former resident and WHS Sebastian Gaeta. It has undergone several repairs over the years.
This year the WHS will also repair the roof and gutters.
The WHS will continue to display items donated by barber Frank Muscara in 2005. Also on display will be items from Russell Farms,
the DePew house (which was razed in 2004) a girl's dress c. 1905, as well as other Wyckoff artifacts.