Thank you for your interest in historic Union Cemetery. The Wyckoff Historical Society has taken it upon itself to maintain, care for, and restore Union Cemetery.
Historic Union Cemetery was originally the Van Blaricum Family Burial Plot with the first burial circa 1720. (The Van Baricum Family Farm was one of the four original homesteads in what is now Wyckoff.) Over the years Union Cemetery has been known (successively) as:
• Van Blarcom Family Cemetery
• New Prospect Methodist Episcopal Cemetery
• Waldwick Methodist Episcopal Cemetery
• Waldwick Union Cemetery, and
• Union Cemetery of Franklin Township
Help us to Continue the Cleanup and Maintenance of Union Cemetery by Donating Today!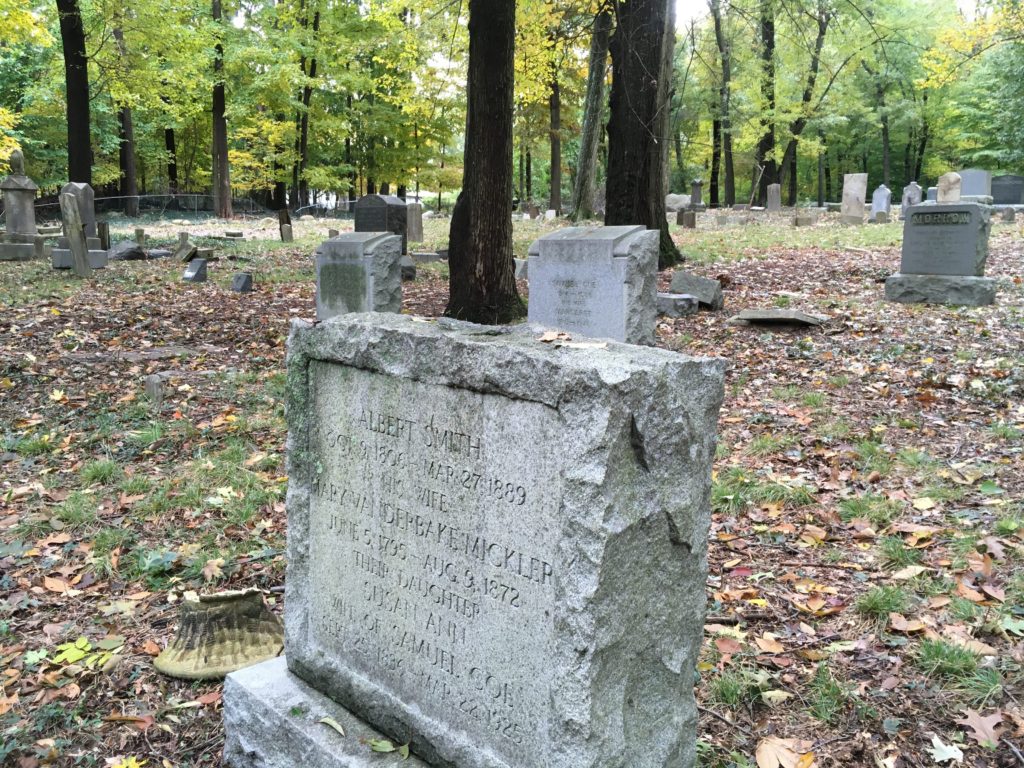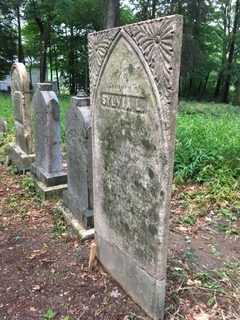 Most of the history available on Union cemetery was developed by a former WHS member through diligent historical research.
Restorative Efforts: 2018-2019
An Eagle Scout clean-up project is scheduled to take place in the spring of 2019. Four early Van Blarcom family headstones were repaired during the summer of 2018. There are still many other on the repair list. The WHS will announce a "Adopt A Headstone" fund-raiser in 2019.
Tree limbs are expected to be removed soon, and all weeds and high brush have been cut down to unveil paths and fallen headstones.
Anyone interested in helping with this project can contact the Wyckoff Historical Society at info@wyckoffhistory.org. The Union Cemetery has been part of our Community for almost 300 years and counting.
Restoration Efforts: Pre 2018
Scouts Help Restoration Efforts
The Wyckoff Historical Society (WHS) has "adopted" Union Cemetery and put together a long range plan to maintain and restore it. Most recently, in the spring of 2012, an Eagle Scout project, led by James Calvano of Troop 34 in Franklin Lakes, has taken us a long way toward getting Union Cemetery back into a manageable condition. His troop and team have cut down weeds and weed trees (up to 4 feet high) and picked up leaves and branches. A local landscaper provided a chipper and cut down a damaged tree and topped another. The scouts cut down other small damaged trees. A major improvement was to establish a main pathway from the right-of-way off Franklin Avenue to the back of the cemetery and two side pathways, including one to the entrance from the neighboring Wyckoff Assembly of God parking lot. These pathways were cleared and wood chips were laid down, making the cemetery more user friendly and inviting. Large holes were filled in where graves had sunken or animals had dug burrows. This was an amazing undertaking and achievement and James and his team have earned great thanks not only from the WHS but also from the entire community. On their last work day, the 20-plus volunteers were given a short history lesson on Union Cemetery and the area that is now Wyckoff.
More on Restoring Union Cemetery
Maintaining the Site
Over the past decade, the WHS has launched other clean-up efforts at Union Cemetery, often benefiting from other Boy Scout Eagle projects, other community groups or WHS members. However, we came to realize that it had to be a continuing effort to keep up with Mother Nature. Accordingly, a comprehensive Maintenance and Improvement Program was developed to guide future efforts.
In the past several years, the WHS has continually removed large trees that had fallen or needed to be cut down. This has been done this several times a year recently due to storm damage. We have been spraying twice a year to kill off the poison ivy and minimize regrowth. The fence surrounding the cemetery has been repaired several times. This past fall, a Girl Scout Silver Award Project by Coleen and Kelly Hafers of Wyckoff, cleared brush growing at the Franklin Avenue entrance and along the right-of-way back to the cemetery itself. A WHS member repainted the sign that hangs over the Franklin Avenue entrance. We are now waiting for the last of the heavy equipment to finish up before putting the sign back up. The cooperation and help of Union Cemetery neighboring residents and the Wyckoff Assembly of God has been much appreciated.
Historic Marker
Plans are also being made to erect a new permanent metal historical maker giving a brief history of Union Cemetery to place at Franklin Avenue entrance. Currently a temporary sign gives some background information on the cemetery.
Honoring Fallen Soldiers
Recently we initiated honoring members of the armed forces who are buried in Union Cemetery. We first recognized John Van Blarcom who served in the Revolutionary Army. Each Memorial Day we decorate the graves, as well as the entrance with American flags and flowers, of four men who served in the Union Army during the Civil War. We plan to add other veterans as we identify them and their graves sites.
Summer 2012 Restoration Project
Two interns from Flagler College in St. Augustine, Florida spent two months conducting historical research, surveying the cemetery, and starting to restore tombstones. WHS members and friends have learned how to restore fallen and damaged tombstones by working at the historic Wyckoff Reformed Church Cemetery and will bring their expertise to Union Cemetery. One broken tombstone has been reassembled and made it through two winters in excellent condition. Professional assistance will be utilized for large and difficult work.
Ongoing Maintenance Essential
A key part of the WHS plan is to maintain a schedule of nominal annual and special efforts. The cemetery will be periodically checked for needed maintenance, repairs, and restoration. Work will be done by WHS and community volunteers (some have already contacted us). WHS efforts to maintain and restore Union Cemetery will be publicized in the local media and will also create programs and tours to tell the Union Cemetery story.[