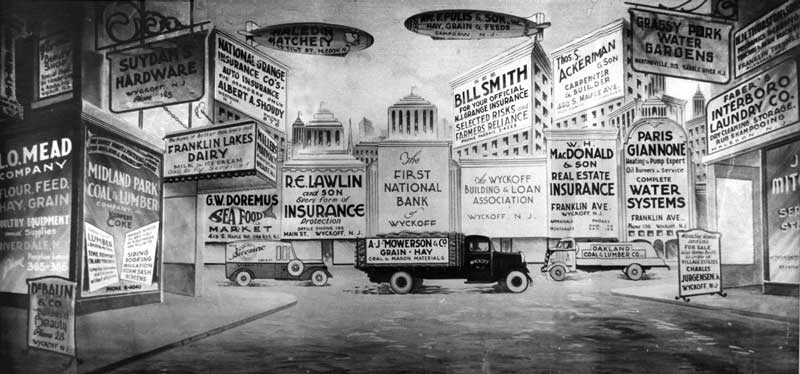 The Wyckoff Historical Society was formed in January 1974 by three Wyckoff couples. Bylaws and a charter were drawn up and meetings were held at residents' homes. The first public meeting was held June 29. The Society was incorporated on December 13, 1974.
Today, the Wyckoff Historical Society still abides by its original mission to research, preserve and educate about the rich history of Wyckoff, New Jersey. Our general meetings/programs are held on the third Tuesday of every month at the Wyckoff Public Library at 7 pm.
We invite you to take a trip into the past when Wyckoff was farmland, mills, and pastures. Read about the early settlers who built the stone houses, churches, schools and businesses that formed Wyckoff. Although most of the farms and pastures are gone, many historic homes remain, tended carefully by current owners, and giving you a peak into Wyckoff's history. The next time you drive around Wyckoff, drive a bit slower, and remember Wyckoff's past.
Our Board Members and Trustees
President: Lynn Groel-Lynch
Vice President: Virginia Bryan
Treasurer: Peter Staller
Secretary: Barbara Petruccelli
Past President: Linda Vreeland
Trustees: Richard Lynch, Christopher Puzio, Doris Noerr, Gail Scanlan, Brian Brunsch
Historian: Richard Lynch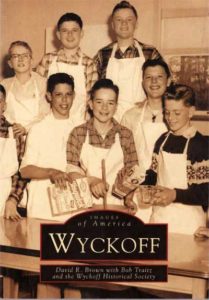 Images of Wyckoff
David R. Brown with Bob Traitz
and the Wyckoff Historical Society
Vintage photographs that appear on this website are from the extensive collections of Richard Butler Turner Photographers, the Wyckoff Library, the Wyckoff Historical Society, and collections of local residents.
These photos and others appear in Images of Wyckoff. Copies of the book are available through the Wyckoff Historical Society for $19.99. If you are interested in purchasing a copy, please email the Wyckoff Historical Society info@wyckoffhistory.org.
Book Cover Photo: Members of the Chef's Club at the Abraham Lincoln School, 1957
To use a photograph from this book or the WHS archives, please read the WHS Image Usage Agreement.