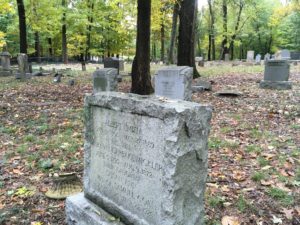 The Union Cemetery on Franklin Avenue dates back to the first half of the 1700s, when Johannes Van Blarcom set aside an area of his property to become a burial place. The earliest readable stone is from 1764 and thought to mark the grave of a slave girl because there is no surname given. Johannes Van Blarcom's daughter, who died in 1725, is alleged to be buried there also. Various community groups have volunteered to maintain the cemetery, including the Wyckoff Historical Society. In 2009, dead trees, underbrush, and poison ivy were removed.
View our presentation which is an overview of our work restoring the cemetery. To view the entire powerpoint, scroll the 37 slides.
Help us to Continue the Cleanup and Maintenance of Union Cemetery by Donating Today!